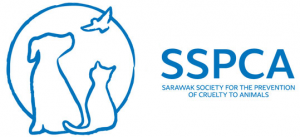 In Kuching, there's a non-profit organization named Sarawak Society for the Prevention of Cruelty to Animals, or SSPCA. They are very dedicated to raise the awareness of animal welfare, rescued and rehome stray animal, initiated a pilot neutering scheme, and organized fundraising events.
To act as an advocate on behalf of animals and as an enforcer of their rights;
To provide for the well-being of animals of the State of Sarawak that are abandoned, injured, subjected to unfair or cruel treatment or otherwise in need;
To cultivate in the people of our community an awareness of the animals whose world we share;
To promote a bond of mutual assistance between people and animals; and
To instill respect for and appreciation of all living things.  
Prevent or suppress cruelty to animals and birds.
Promote active kindness to animals and birds.
Afford information, assistance and advice, assist in the spreading of knowledge on matters pertaining to the welfare of animals and birds and in First Aid.
Organize meetings, discussions, lectures, exhibitions, social and other events concerned with the welfare of birds and animals.
Provide premises for service to animals, and to advocate humane methods when animals are being put away.
Negotiate with Government, Police, Municipal or other authorities with reference to Legislation, Public Health and all other matters relating directly or indirectly to the welfare of animals and to promote or oppose legislation and other measures affecting or likely to affect the interests of animals.
Run joint neutering campaigns with the local councils in an effort to curb the expanding stray population; 
Walk hundreds of visitors through our Shelter to educate them about the need to be more responsible citizens and pet owners; 
Organize countless off-site adoption campaigns to increase the chances of our animals finding new homes;
Act on reports about animal abuse cases; 
Manage an animal crematorium – the first in Malaysia – so that we can dispose of animal carcasses in a safe and hygienic manner;
Climb up trees and down drains to rescue trapped animals in the dead of night;
Brave the flood waters at midnight to take our shelter animals to safety; and
Pen millions of words in an effort to raise awareness about Animal Welfare and to fight for Animal Rights. 

For more information, please visit SSPCA at:
Note: We just wants to help the SSPCA to spread the importance of animal welfare only. Therefore, please visit their Official Website and Facebook Page to know more about their related information, events and services.